Our team can take care of the mold in your crawlspace.
The crawlspace of a home is situated below the ground level, offering access to some of the various components and systems that keep the space comfortable and functional. A crawlspace may provide access to the HVAC ducts, electrical wiring, and plumbing components, which means it will typically only be accessed when you're dealing with an issue with one of these systems or parts. Since it's rarely disturbed and sits beneath the ground, it's an area where mold growth can be a serious problem. Many property owners deal with mold in the crawlspace, which can create a safety hazard for those in the home.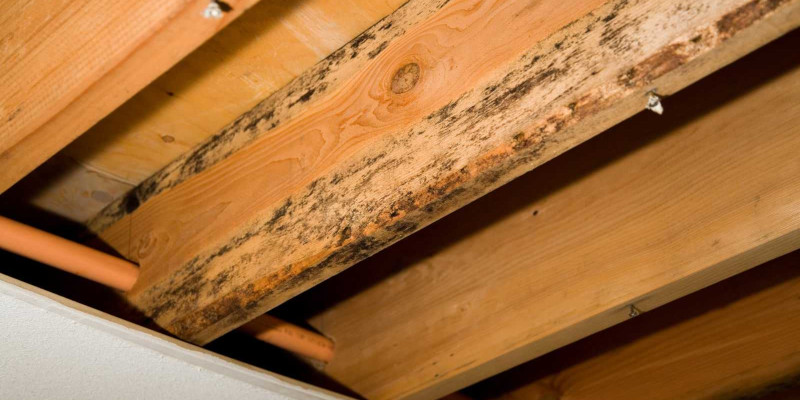 If you have a leak or flood, the moisture will travel downward due to gravity, which means excess moisture often ends up in the crawlspace. As a result, it's a place where mold may grow and spread rapidly, and the spores can travel through the air, impacting the indoor air quality and potentially causing allergic symptoms. The team at AdvantaClean of Lake Norman, Hickory and Gastonia can take care of the mold in your crawlspace. We offer mold testing and remediation services to those in and around Belmont, North Carolina.
We're part of the AdvantaClean family of companies, and we're devoted to ensuring that our clients have a clean, safe place to live and work. Our team includes experienced and skilled technicians who specialize in mold remediation, so you can count on us to deal with the presence of mold in your crawlspace. Contact us to schedule a mold service at your home.
FAQs About Dealing with Mold in Your Crawlspace
We at AdvantaClean of Lake Norman, Hickory and Gastonia have extensive experience in dealing with mold, and one thing we know is that the crawlspace is one area that is especially vulnerable to mold problems. Below, we have put together the answers to a few of our most frequently asked questions on the subject of mold in the crawlspace to help you know what to do about this type of issue.
How can I detect mold in my crawlspace?
The most reliable way to detect mold in your crawlspace is to have the area inspected regularly, or to check yourself. We also recommend paying attention to the way your home smells—if you notice a stale, musty odor in the air, it's likely that you have mold somewhere, and the crawlspace is a likely culprit. In addition, mold in your crawlspace can negatively affect your health, causing you to experience frequent colds, coughs, or other respiratory issues, as well as issues with concentration or memory, depending on the type of mold that's present.
What should I do about mold in my crawlspace?
If you suspect that there is mold your crawlspace, all you need to do is call our team, and our experienced technicians will take care of the rest. We have extensive experience in mold removal, and you can count on us to remove the mold in your crawlspace and prevent it from coming back in the future.
Is there anything I can do to prevent mold in my crawlspace?
Yes, there are definitely preventative steps you can take to keep mold out of your crawlspace. Our team offers crawlspace encapsulation services that will help you keep excess moisture out of this area, which in turn will discourage mold growth and keep your home safe. This process involves installing a moisture-proof barrier around the walls, floors, and ceiling of your crawlspace, as well as installing one or more dehumidifiers to provide even more moisture protection.
---
At AdvantaClean of Lake Norman, Hickory and Gastonia, we can remove mold in crawlspaces of properties in Alexis, Belmont, Bessemer City, Catawba, Cherryville, Claremont, Connelly Springs, Conover, Cramerton, Crouse, Dallas, Denver, Drexel, Gastonia, Glen Alpine, Granite Falls, Hickory, High Shoals, Hildebran, Hudson, Icard, Iron Station, Lincolnton, Lowell, Maiden, McAdenville, Morganton, Mount Holly, Newton, Rhodhiss, Rutherford College, Sherrills Ford, Stanley, Terrell, Valdese, Vale, Westport, and Waco, North Carolina.