Our crawlspace encapsulations are a highly beneficial solution for preventing excess moisture in your home.
Allowing excess moisture and poor air quality to remain in your home can lead to many troubling problems. Moisture can lead to mold, which can be dangerous, especially to people with respiratory issues. Excess moisture also leaves the wood in your home more vulnerable to termites and carpenter ants, which eat away at the wood supporting your walls. Many homes in the Hickory, North Carolina area have crawlspaces that are especially prone to holding excess moisture. At AdvantaClean of Lake Norman, Hickory and Gastonia, we offer a solution to preventing these issues: crawlspace encapsulation.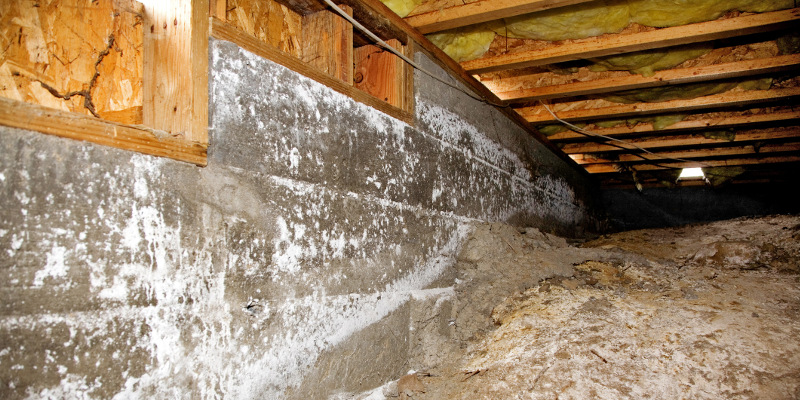 Crawlspace encapsulation is the process of sealing the crawlspace underneath your home from outside air and moisture. When you invest in crawlspace encapsulation with AdvantaClean of Lake Norman, Hickory and Gastonia, our highly trained and experienced technicians, will create a barrier covering your floors, walls, and ceilings to control the quality of air passing into your home.
Choose Qualified Experts for your Crawlspace Encapsulation
Some of the many benefits of crawlspace encapsulation include:
Prevents mold and mildew growth in your home
Improves air quality in your home
Deters pesky wood-eating bugs like termites
Can reduce your energy bill
Can make your home more marketable if you are looking to sell
At AdvantaClean of Lake Norman, Hickory and Gastonia, we pride ourselves on doing a job well-done. Our technicians are licensed, bonded, and insured and are determined to provide you with a positive experience. You can trust us to deliver work of the highest quality. If you want to learn more about our crawlspace encapsulations, give us a call. We'd be happy to come and see your crawlspace and determine if encapsulation is the best choice for you.
FAQs About Crawlspace Encapsulation
At AdvantaClean of Lake Norman, Hickory and Gastonia, we want to help you take the best possible care of your home. One way we do that is by offering crawlspace encapsulation services to help you protect your home from moisture problems. If you have questions about this process, we encourage you to keep reading, as we have assembled some of our most frequently asked questions on the topic and their answers below for you to check out.
What exactly is crawlspace encapsulation?
Crawlspace encapsulation is a method of protecting this area of your home from moisture damage, and it consists of sealing off the area with a durable, watertight barrier to prevent moisture from getting in. In some cases, crawlspace encapsulation may also involve installing dehumidifiers in the crawlspace to provide additional moisture control.
What types of issues does crawlspace encapsulation help with?
The main purpose of crawlspace encapsulation is to keep out excess moisture, but by doing that, encapsulation also helps to prevent a variety of other problems. For example, excess moisture in the crawlspace often attracts bugs and other pests, and it makes the crawlspace a great breeding ground for mold. By taking this step to deal with moisture problems, you can also protect your home from many other issues.
How can I tell if I need crawlspace encapsulation?
A few signs that you have a moisture problem in your crawlspace include wood rot, termite-damaged floors, and wet insulation. In addition, if you see mold growth in your crawlspace or notice condensation on your ductwork, we encourage you to have your crawlspace encapsulated.
---
At AdvantaClean of Lake Norman, Hickory and Gastonia, we offer crawlspace encapsulation services in Alexis, Belmont, Bessemer City, Catawba, Cherryville, Claremont, Connelly Springs, Conover, Cramerton, Crouse, Dallas, Denver, Drexel, Gastonia, Glen Alpine, Granite Falls, Hickory, High Shoals, Hildebran, Hudson, Icard, Iron Station, Lincolnton, Lowell, Maiden, McAdenville, Morganton, Mount Holly, Newton, Rhodhiss, Rutherford College, Sherrills Ford, Stanley, Terrell, Valdese, Vale, Westport, and Waco, North Carolina.
Similar Services We Offer: