Keep your crawlspace in the best shape with crawlspace encapsulation.
Here at AdvantaClean of Lake Norman, Hickory and Gastonia, we take care of all different areas of your home in the Gastonia, North Carolina area, even ones that most people avoid entering! If you have a crawlspace, especially one that is only made of the ground and not of poured concrete, you should consider crawlspace encapsulation for the many benefits that it offers. Crawlspace encapsulation is the practice of putting high-quality plastic sheeting to create a barrier between the earthen ground and the floors of your home. This creates a cleaner, more functional space that is advantageous to the floors above. Consider some of the following advantages to having our team here at AdvantaClean of Lake Norman, Hickory and Gastonia encapsulate your crawlspace: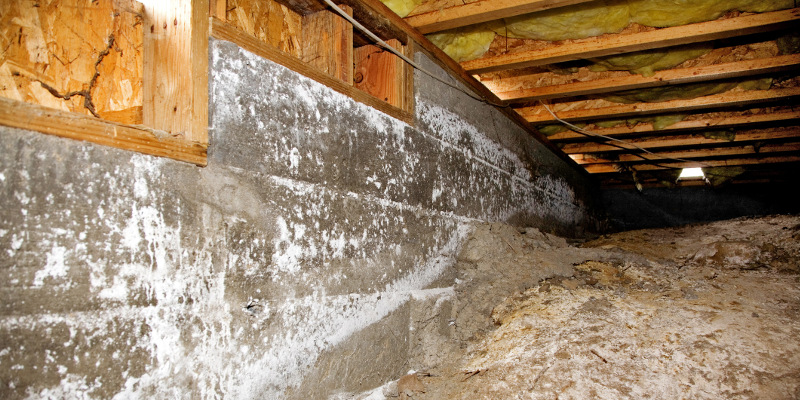 Cleaner Air- Many people don't realize just how permeable our floors and walls are. Even if you have well-built and solid spaces, air from your crawlspace can still make its way into your home- and bring dirt, dust, mildew and mold spores along with it.
Safer Living Spaces- Crawlspace encapsulation is a great way to protect your living spaces. Often crawlspaces are damp and musty. That extra humidity can work through the ground and rise to the living spaces, creating musty carpeting, cupping or buckling wood floors and other issues.
More Energy Efficient- Your crawlspace can fluctuate temperatures since it is not heated or cooled, which drastically can change the temperature of the floors above. If you encapsulate your crawlspace, your floors above will be more energy efficient.
Crawlspace Encapsulation Done Right
Crawlspace encapsulation is a great addition to any home in the area. If you have questions about the process, the materials or how it can help you, please give us a call today!
FAQs About Crawlspace Encapsulation
Our team at AdvantaClean of Lake Norman, Hickory and Gastonia wants to help you do what's best for your home, and we offer a wide range of services designed to tackle a variety of problems. Here, we will be focusing on crawlspace encapsulation and go over a few of our most frequently asked questions on the subject.
What is crawlspace encapsulation?
The term "crawlspace encapsulation" refers to a method designed to protect your crawlspace—and the house above it—from moisture problems. Our team will install waterproof barriers around the walls and floor of your crawlspace (and sometimes the ceiling as well, if necessary) to keep excess moisture out. In addition, we may also install dehumidifiers to add further protection against moisture.
How do I know if I need crawlspace encapsulation?
Encapsulating your crawlspace is nearly always beneficial, as doing so helps prevent mold growth, keeps your air cleaner, and can even make your home more energy efficient. We particularly recommend this service for anyone who lives near a large body of water, or for households in which one or more people suffer from sensitive allergies. Our crawlspace encapsulation services will keep excess moisture, as well as harmful spores, out of your home so that you can breathe easier, both literally and metaphorically.
Can I encapsulate my own crawlspace?
While it is technically possible to install your own moisture barriers around your crawlspace, we wouldn't recommend doing so. You will get much better results by hiring trained professionals to do it for you, and on top of that, crawlspace encapsulation is a difficult, unpleasant job that you wouldn't want to do yourself anyway.
---
At AdvantaClean of Lake Norman, Hickory and Gastonia, we offer crawlspace encapsulation services in Alexis, Belmont, Bessemer City, Catawba, Cherryville, Claremont, Connelly Springs, Conover, Cramerton, Crouse, Dallas, Denver, Drexel, Gastonia, Glen Alpine, Granite Falls, Hickory, High Shoals, Hildebran, Hudson, Icard, Iron Station, Lincolnton, Lowell, Maiden, McAdenville, Morganton, Mount Holly, Newton, Rhodhiss, Rutherford College, Sherrills Ford, Stanley, Terrell, Valdese, Vale, Westport, and Waco, North Carolina.
Similar Services We Offer: